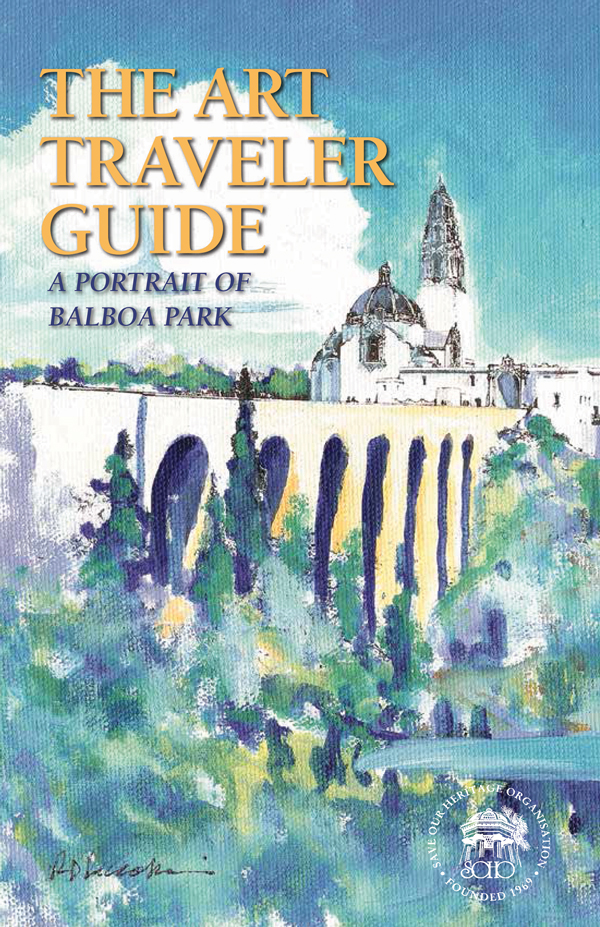 The Art Traveler Guide: A Portrait of Balboa Park
$10.95
Available for shipping and sold at the
Marston House Museum Shop, 3525 Seventh Avenue
Whaley House Museum Shop, 2476 San Diego Avenue

This unique 56-page booklet on historic Balboa Park is richly illustrated with vivid paintings by acclaimed San Diego artist RD Riccoboni. A longtime historic preservationist and founder of Beacon Artworks Gallery in Old Town, San Diego, Riccoboni calls himself "The Art Traveler" because he paints historic buildings and sites wherever he goes to promote and "preserve" them. Riccoboni also views himself as "a cultural heritage storyteller in paint."

The Art Traveler Guide: A Portrait of Balboa Park displays Riccoboni's brilliantly colored paintings of the park's historic landmarks on nearly every page. The self-taught artist paints in an Impressionist, plein-air style, often using bold, Expressionist colors. Riccoboni's effervescent portrayal of Balboa Park buildings and gardens, arcades and fountains, reflects his passion for this internationally renowned place that civic visionaries developed for huge international expositions in 1915 and 1935. The book is designed for walking tours, including disabled access at all stops, or as a handsome history-and-art portfolio that is also a valuable reference.

About the Author

RD "Randy" Riccoboni is a native Californian with a strong local and international following for his accomplished artwork. For years, this self-taught artist has followed his passion for preservation and "saved" historic places in his way: Randy paints their portraits with vigor and expressiveness that reflect his own boundless energy.

He's also a thoughtful, persuasive advocate in person. "Many of the places we all love are fragile or not protected," he says. "Then when they are gone, we wonder what happened."

Highly attuned to his surroundings, Randy has earned his chosen moniker, the Art Traveler. Since he was a teenager, he has sketched or photographed historic buildings and landscapes; later, he began painting them. These days, usually in his San Diego studio, he uses his studies to create accomplished, often brilliantly colorful paintings of landmarks.