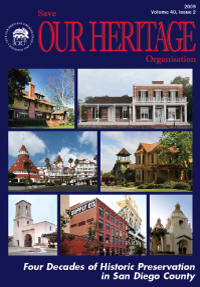 Four Decades of Historic Preservation in San Diego County
$12.99
Available at
Whaley House Museum Shop · 2476 San Diego Avenue · (619) 297-7511
Marston House Museum Shop · 3525 Seventh Avenue · (619) 297-9327

SOHO marks its 40th anniversary with the release of a compelling documentary film by Dan Soderberg chronicling its influential history from 1969 through 2009.

The 65-minute documentary features Robert Miles Parker, an artist and art teacher who inadvertently founded SOHO when he hung a sign soliciting help in saving the 1887 Victorian Sherman-Gilbert House. Parker is portrayed as a charismatic leader who foresaw the irreparable damage that indiscriminate redevelopment was wreaking on the historic neighborhoods of San Diego.

SOHO's pivotal role is seen in its saving of architectural icons such as the Santa Fe Depot, Hotel del Coronado, Horton Plaza Park and fountain, Balboa Theatre and Villa Montezuma.

The documentary also notes how SOHO has evolved, keeping pace with the passage of time, the environmental movement, redevelopment cycles and natural disasters. What began as a small group committed to saving Victorian houses is now one of the largest such organizations in California, one that champions and illuminates the value and significance of all of San Diego County's historic sites and cultural landscapes. SOHO also promotes sustainability and the reuse of old buildings, backed by the slogan, "The greenest building is the one that is already built."

About the Director
Dan Soderberg, a UCLA-trained filmmaker based in San Diego, spent nearly a year interviewing SOHO members and staff for the documentary. He also researched the group's four decades of achievements through archives, libraries and hundreds of photographs. "There is no one SOHO story. There are many stories and all of them are compelling," Soderberg said in an interview. "SOHO people tend to devote every ounce of their being to the cause, so it was a challenge to pick the stories to tell."

A member of SOHO's board of directors since 2008, Soderberg also narrates the documentary.